Manufacturing Capabilities
As a bulk chemical distributor and supplier, our capabilities extend to handling both liquid and powder substances, offering bulk liquid trans-loading services, and efficiently managing varied packaging sizes.
Proudly serving b2b clients all over the U.S.
Modern Chemical's Four Fold Process
Step 1: Understanding Clients' Needs
The foundation of our process lies in thoroughly understanding our clients' needs. We believe that each client is unique, and so are their requirements. Our dedicated team of professionals takes the time to engage with clients, comprehend their specific needs, and develop tailored solutions that not only meet but exceed their expectations. This personalized approach ensures that our clients feel heard, valued, and confident in the solutions we provide.
Step 2: Evaluating Sourcing and Procurement Capabilities
Once we have a clear understanding of our clients' needs, we evaluate our sourcing and procurement capabilities to identify opportunities for cost reduction. Our extensive network of suppliers and strategic partnerships enables us to source raw materials at competitive prices, ultimately lowering the overall cost for our clients. We are committed to providing the best value without compromising on quality.
Step 3: Blending and Testing Customer Products
Quality assurance is at the core of our operations. After sourcing the necessary raw materials, our expert team blends and tests the customer products to ensure they meet the highest quality standards. Our state-of-the-art laboratories and stringent testing protocols guarantee that the final product not only adheres to industry standards but also surpasses our clients' quality expectations.
Step 4: Initiating Long-Term Supply
The final step in our process is initiating long-term production. Once the product formulation is finalized and approved by the client, we commence full-scale production. Our advanced production facilities, equipped with the latest technology, ensure efficiency and consistency in the production process. Additionally, our commitment to never missing ship dates means our clients can rely on us to deliver on time, every time.
Modern Chemical service offerings
Modern Chemical works with established companies to help manufacture and package a variety of products in strict accordance with unique chemical formulation and brand guidelines.
Commodity & Specialty products, we have what you need.
Modern Chemical's dedicated 24/7 customer service and support staff ensure cost-effective ingredients and value-add services for your operation. We are your go-to chemical contract manufacturing company.
Explore the available chemicals where Modern Chemical maintains a strong price position.
---
Don't See a Chemical You Need?
Get in touch with our team to learn more or download our full available product list.
Extensive chemical manufacturing
for all technical industries
Metalworking & Lubricants
Home & Industrial Cleaning
We Provide Quality
Consumer Packaged Goods
The non-food consumer packaged goods industry encompasses a broad spectrum of products that people use daily. These include household cleaning supplies, personal care products, cosmetics, adhesives, paints, and much more. Each of these items relies on chemical components for their effectiveness, stability, and safety.
Comprehensive Chemical Products for the Automotive Industry
The automotive industry is vast and diverse, employing a wide range of chemical products. These range from lubricants, coolants, and brake fluids that ensure the smooth operation of vehicles, to adhesives and sealants used in vehicle assembly. Moreover, a variety of cleaning and detailing chemicals such as car wash soaps, waxes, polishes, and tire shine products are used to maintain the aesthetics of vehicles.
Your Premier Supplier and Distributor of Construction and Coatings Chemicals
Chemicals play a crucial role in the coatings and construction industry. In paint coatings, chemicals serve as pigments, binders, solvents, and additives, each contributing to the color, durability, drying time, and special features of the paint. In the construction industry, chemicals are used in concrete admixtures, waterproofing, sealants, and adhesives to enhance the strength, durability, and weather resistance of buildings and structures.
Dedicated Oilfield Chemical Supplier and Distributor
The oil and gas industry relies heavily on a diverse range of chemical products for various applications. These include drilling fluids to lubricate drill bits and carry rock cuttings to the surface, corrosion inhibitors to protect machinery and infrastructure, biocides to prevent microbial growth in pipelines, and demulsifiers to separate oil and water mixtures. Additionally, chemicals are also used in enhanced oil recovery processes to maximize the extraction of oil and gas from reservoirs.
Specialized Supplier of Metalworking Fluid Additives and Lubricant Additives
The metalworking and lubricants industry heavily depends on various chemical products to enhance the performance and longevity of their applications. Metalworking fluid additives are essential for improving the cooling, lubricating, and protective attributes of metalworking fluids. These additives help in reducing friction, extending tool life, preventing corrosion, and improving the surface finish of the machined parts.
Your Premier Provider of Cleaning Chemicals
Chemical products play an indispensable role in both home and industrial cleaning. They are formulated to efficiently remove dirt, grime, bacteria, viruses, and other contaminants, leaving surfaces clean, sanitized, and safe.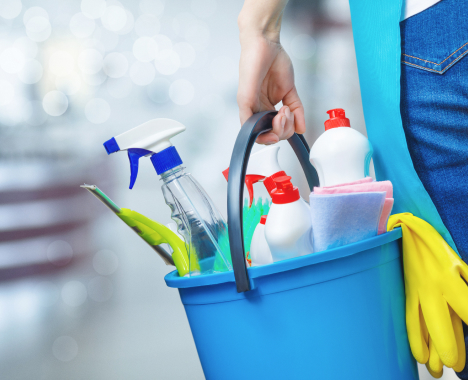 Leading Provider of Water Treatment Solutions
Chemical products play a pivotal role in water and wastewater treatment processes, ensuring that water is safe for use and environmentally friendly when discharged. These chemicals can be used to eliminate harmful bacteria, remove impurities, reduce hardness, and maintain pH balance, among other tasks.
See what our customers say
"
If you decide to work with the Modern Chemical team you will not be disappointed.

"
We met the Modern Chemical shortly after the pandemic hit. The partnership and support we received on a daily basis was truly special. They consistently met our needs and worked with us to develop various solutions to take care of our customers during these most challenging times.
Not only did they help us short term – we continue to collaborate on several projects and look forward to a long and mutually beneficial relationship moving forward. If you decide to work with the Modern Chemical team you will not be disappointed.
"
Their dedication to providing the best customer service possible is very apparent.

"
We have worked with Constantine Zotos and his team since April of 2020. Modern Chemical has done an amazing job since day one of providing us quality products, delivered as requested and expected. The Modern Chemical team has gone above and beyond with every opportunity we have given them whether it was in their wheelhouse or not. Their dedication to providing the best customer service possible is very apparent.
I would highly recommend Constantine and the Modern Chemical team for any hand care needs or import sourcing opportunities that your company may have.
Providing our customers with solutions
Leveraging our unique speed and precision with exceptional customer service. Let's discover how we can help your business.